Sat 16 Aug 2008
I got a call as we were driving home to Pittsburgh from the Midwest for a last-minute gig for the Sheetz Company. They have a big meeting coming up and the CEO wanted to have a fun video as an introduction to his big speech. Since the theme is "road trips", he is going on an adventure-filled road trip in a go-kart with a racing suit and helmet on. My job was to be him when he pops into a Sheets convenience store for snacks and coffee.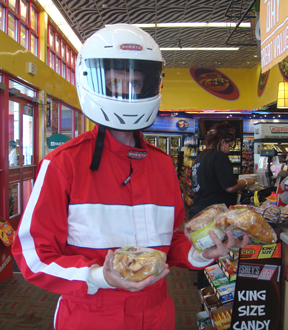 Poised with my juggling-sandwiches.
Lookin' good!
So I juggled sandwiches, grabbed snacks off the shelf with a juggler's flair, and I even ordered a drink off the touch-screen ordering system while tossing a sandwich into the air with one hand, and holding a whole mess-o-snacks in the other. It was fun. I have to say that I was very impressed at how easy it was to order my drink. If I can do it while repeatedly tossing a sandwich into the air and catching it again with one hand while wearing a racing helmet, then I think the average Joe should be able do it under more normal circumstances. We finished the shoot with me balancing a stack of something like 10 cups and walking out the door. I tried to do it as a real balance, but the cup lids were too squishy, so we had to use gaffer's tape to stick them together. After the juggling sequence I believe the CEO is going to bust out and do a little break-dancing (with someone else in the suit).
Things I learned while doing this video shoot:
If you walk into a convenience store with a racing suit on, everyone will stare at you.
I no longer care if everyone stares at me.
Racing helmets get fogged up on the inside if you wear them for things other than driving a race car.
Despite having a camera crew pointed at you, normal people will always think there is coffee in that giant stack of cups you are balancing.
Some people get scared when a man in a racing helmet comes running at them while juggling three sandwiches.
Wearing a racing suit in public makes you feel like a super-hero.
Sheetz Inc. seems like a fun company, so I hope I get to work with them again.
2 Responses to " Fun Gig For Sheetz Inc. "
Trackbacks & Pingbacks: