Sat 6 Dec 2008
Posted by mark under Model A Ford
Comments Off on Lenore and I led a tour with the Model A Club
Hayward/Thomas Model A Covered Bridge Tour, October 12 2008
We couldn't have asked for a better day for a drive.  The morning started off a little cool, but the sun warmed us up nicely by midday.  The fall colors had just come out, and we had plenty of opportunities to see them on the many tiny, winding roads we took to get to the covered bridges and the trolley museum.
Things started off at the McDonalds on Washington Ave. in Bridgeville.  On our earlier scouting runs Lenore and I had discovered that all the covered bridges that we knew of were identical, so for the tour we decided to just see a selection of them.  Since the bridges tend to be on very small roads, and not near towns, the tour group got to drive on some very narrow, winding roads through some gorgeous rural areas.  Several people wondered how Lenore and I were able to find these tiny, out-of-the-way roads after having only lived in the state for a year… it was all thanks to the internet.  Much of the planning was done with the help of the Google Maps website, followed by several scouting trips.  You can see our route here.
We drove right through the first covered bridge without stopping, and went on to the stone "S" bridge at the intersection of Hwy 40 and Hwy 221.  It's an all stone bridge, completed in 1818, that was actually built for wagon and stage traffic headed toward the expanding West.  It was fun to see something designed for a time so long before our cars were around.
Next it was off to our last two bridges, in the vicinity of East Finley.  This was when we had the first break-down of the trip… and unfortunately it was my car that broke down.  On the upside, it was a quickly fixed sticky clutch pedal, and I got to see a "roadside seminar" up close and personal.
Keith Waltower gets us back on the road.  It was very funny that the men couldn't wait to look under the hood, but most of the ladies stayed in the cars.  Lenore took this fantastic photo.
The line-up behind my disabled car.
We got rolling again, and made it to the rest of the bridges without too much more trouble.  The last bridge on the tour turned out to be a great place for a group shot of everyone with all the cars.  We got some nice shots and we were off to lunch.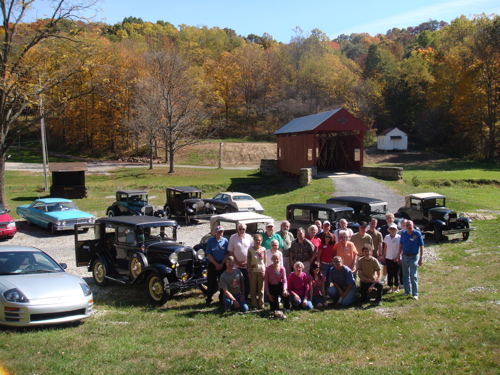 The 3 River Region Model A Ford Restorer's Club
There was a bit of a slow start due to some mechanical trouble, but we were soon on our way.  About halfway to lunch we had our second "roadside seminar".  The topic this time was the virtues of filling your tank before you leave, and it was hosted by Bill "No Gas" Hamilton, as he was dubbed by Carl Trimber (who is always ready with a joke).  A collection of gas was taken up in a soda can, and we were soon on our way again.  At the lunch spot Chuck Berrington presented Bill with a large empty container for his next gas crisis.  Of course Bill would have to fill it himself though.  Bill took all the ribbing with a laugh, and told us that this was actually the first time he had ever run out of gas.  I figure that if you're going to make a mistake like that, you might as well do it in front of a bunch of your friends so you can all get a good laugh out of it.
Bill Hamilton with his new "gas can".
We stopped at the trolley museum after lunch, and got to ride on a trolley from about the same era as our cars.  The afternoon was supposed to include a stop at an antique mall in Cannonsburg, but we unfortunately ran out of time.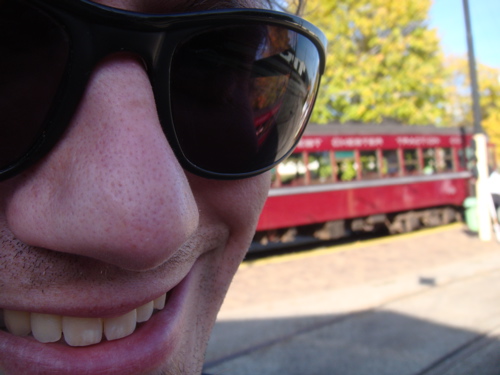 This is me in front of a trolly.
We finished up with dinner at King's Family Restaurant on Washington Rd in Cannonsburg.  All in all, it was a great day, and a fun tour, and I'm already looking forward to the start of next year's driving season.
No Responses to " Lenore and I led a tour with the Model A Club "
Sorry, comments for this entry are closed at this time.